Project Description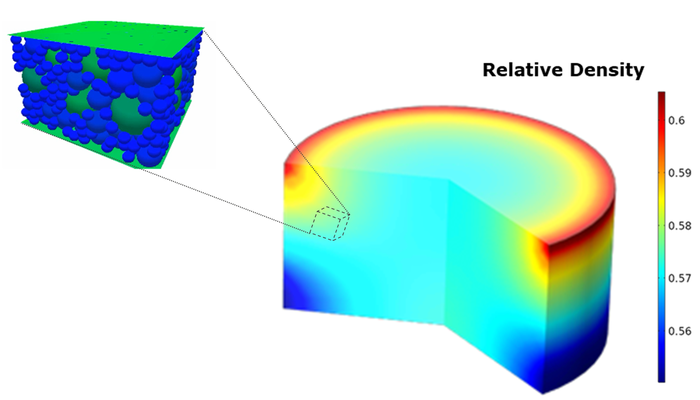 This project develops a multi-scale approach to study the complex micromechanical phenomena in the agglomeration process of particulates through sintering – important in the ceramic and other industries. The micro-mechanical models using DEM will predict agglomeration, grain size/pore distributions, anisotropy and inform the development of population balance models and continuum constitutive models using the finite element method (FEM). X-ray microtomography will be used for validation of these models.
Specific objectives are:
Investigate key particle-scale phenomena for the agglomeration through sintering process from experiments and DEM particle-scale modelling;
Develop meso- and macro-scale parameters to capture the salient particle-scale physics to inform upscaling from DEM to PBM & FEM;
Develop a methodology for the shape optimisation of the sintered components.
Expected Results:
New understanding of particle phenomena during sintering and validated DEM to predict microstructural properties;
Upscaling from DEM to PBM & FEM;
Validation of the multi-scale sintering model and application to component shape optimisation.
Essential Criteria:
An undergraduate degree in Chemical, Civil or Mechanical Engineering, Physics or a related discipline.
An Honours degree at 2:1 or above (or international equivalent) is required, possibly supported by an MSc Degree.
Meeting the School of Engineering PhD requirements, (see "Entry Requirements" at https://www.ed.ac.uk/studying/postgraduate/degrees/index.php?r=site/view&id=947), including English language requirements.